ACCOR HOTELS CHECKER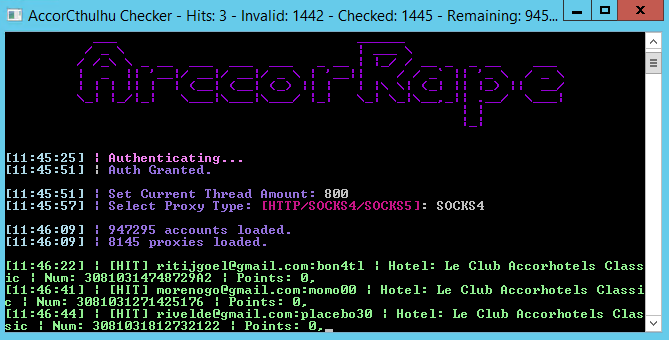 Today I'm presenting to you ArccorRape an Accor hotels checker. If you guys don't know what is Accor Hotels then according to google Accor S.A., doing business as AccorHotels, is a French multinational hospitality company that owns, manages and franchises hotels, resorts and vacation properties. It is the single largest hospitality company in Europe and the sixth-largest worldwide. All you have to do put your combo in "combo.txt" and proxies in "proxy.txt". You can keep the thread between 500-1000 use socks4 proxies for good speed. It also captures points of the account.
If you like this tool, don't forget to tell in the comments and If you have any question, you can contact me using the "Contact Me" page. I'll reply to you as soon as possible. Note: Before you download the tool, make sure you check the VirusTotal link. If you find this is harmful, don't use it on your personal computer. Use it on RDP, VPS, or sandbox.
How To Download