Latest Crunchyroll Checker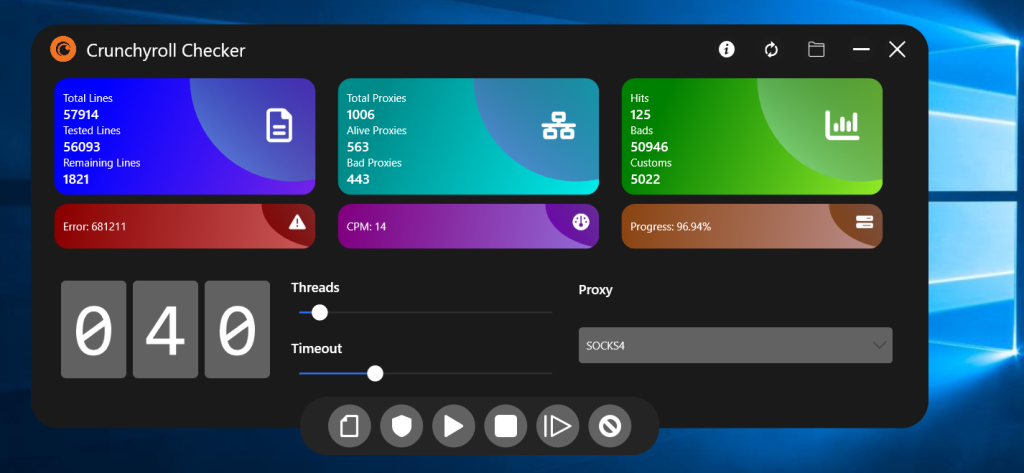 Here I am with the latest Crunchyroll checker. I wasn't uploading new checkers because I was fixing flaws in my coding, like the checker stopping in the middle or skipping lines, etc. But now I have overcome all these coding errors and bugs; I decided not to create a new checker with a brand new interface. Almost three to four checkers of Crunchyroll are already available on my website. I'm sure a few of them are dead by now, and others have many bugs, so here is the latest checker with many new features.
You might still face bugs or errors. If you do, then don't forget to tell me about it. I'll try to fix those bugs. Let's talk about the new features of this latest version.
New Features
Clean & simple UI
Support up to 500 threads
Support every proxy type (HTTP, SOCKS, Auth)
Added CPM
You can stop, resume and abort the work.
Added update option
Free go to custom, and only premium accounts consider hit. I also added the proxy pool from OpenBullet 2, improving checking speed as the checker won't use a lousy proxy again until all proxies are banned. You will get a fine CPM depending upon your proxies. I have tested with free and paid proxies, and upon testing, I get 20-40 CPM with free and 400-500 CPM with paid. There is no such virus or backdoor, but still, I'll provide the virustotal link below so you may check that.
Download the Latest Crunchyroll Checker