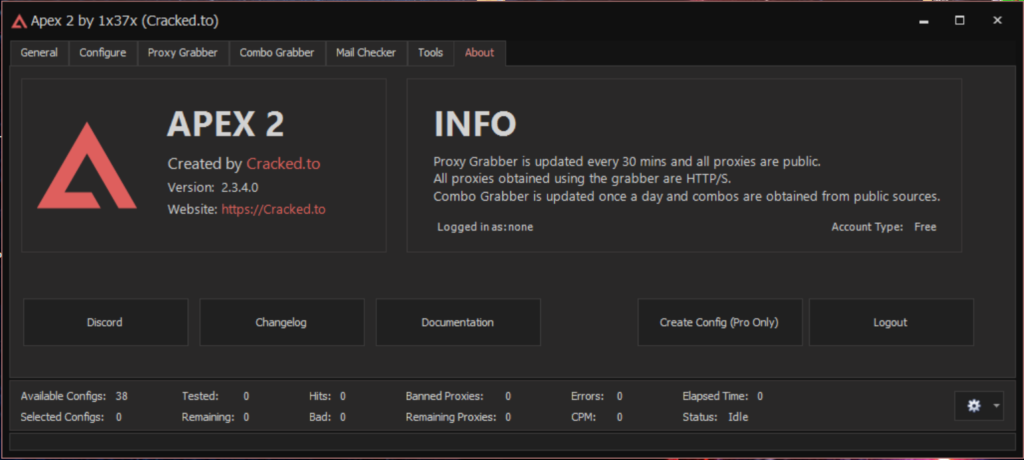 ---
Apex 2 Cracked Version
What is Apex?
A simple toolkit to help recover your accounts in case you forget your login credentials. Apex includes a number of modules to make it easy to check multiple sites at once.
Using Apex
I have tried to make it as easy as possible for you to check accounts with Apex but here is a little step-by-step that can help you get started…
Step 1:
Once Apex has loaded go to the "Configs" tab and select the site configs that you want to use.
Step 2:
Go back to the "General" tab and click the "Load Combo" button and choose the combolist that you want to use, make sure to load the right combolist type for the configs you have selected. Once you have loaded your combolist the "Load Combo" button will change to show the amount of accounts in the combolist.
Step 3:
If all the selected configs are proxyless then you can skip this step, otherwise you will need to click the "Load Proxies" and choose a list of proxies in an IP:PORT format. Once you have loaded your proxies then you will need to select the type of proxies that you are using by clicking on the "Proxy Type" button and selecting the correct proxy type from the list.
Step 5:
Once you have selected the configs, combolist, and proxy list (if required) then you are ready to start checking so click "Start" and watch your hits appear in the table. You can copy a table cell value by right-clicking on the cell and clicking "Copy", alternatively, you can use CTRL+C.