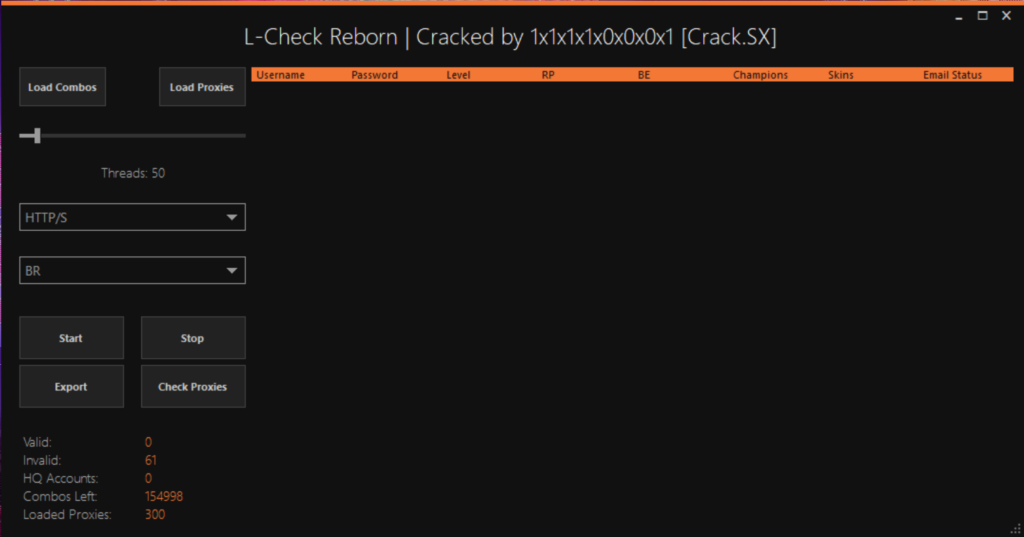 L-Check Reborn
L-Check reborn is a LOL checker with this checker you can crack LOL accounts. It is the fastest LOL checker and captures each and every detail on the account like level, skins, RP etc. It has simple GUI to it easy to use. Here some features of this checker.
> Supports All Regions Available
> A full Database of All the LoL Available Skins
> Load any amount of Combos or Proxies without facing any performance issues
> The Smoothest proxy system with the support of all types of proxies [ HTTP – SOCKS4 – SOCKS5 ]
> Dedicated Proxy Checking system against LoL Servers to check your proxies before checking accounts
> Full Capture of Accounts Data [ Username – Password – Level – RP – BE – Champions – Skins – Email status ]
> The Fastest LoL Checker ever Coded!
If you like this tool don't forget to tell in the comments. I'm waiting for your valuable feedback it will motivate me to upload such a tool in the future. If you have any question don't hesitate to contact me. You can contact me using the "Contact Me" page.