Unfair Combo Leecher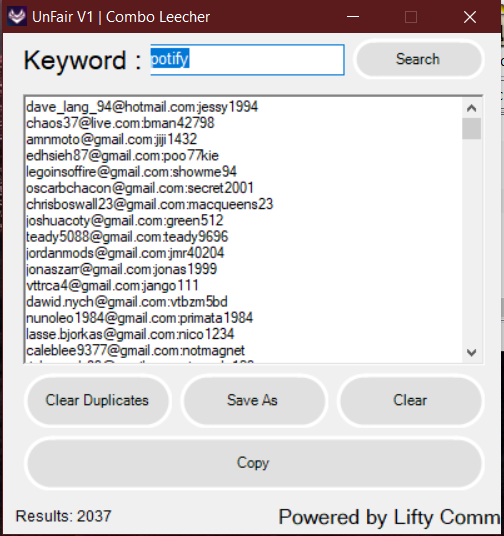 Many of you guys are using x-slayer leecher for getting combos. Here it is another new leecher that leech combos for you same as x-slayer but with a simple interface. Write your desired keywords separated by a comma and click on search before saving the result make sure you clear the duplicates. Expect V2 to come out shortly with a lot more features!
This is how it works:
1) Run "UnFair V1".
2) Type in a keyword such as "Spotify", "Netflix", "Minecraft", "@gmail.com" or something like that.
3) Click on "Search".
4) Let it load and hit "Clear Duplicates" after it's done.
5) You could then choose to save it as or copy them to clipboard.
6) Now run them through a checker to see which ones are working and which not.
If you like this tool, don't forget to tell in the comments and If you have any question, you can contact me using the "Contact Me" page. I'll reply to you as soon as possible. Note: Before you download the tool, make sure you check the VirusTotal link. If you find this is harmful, don't use it on your personal computer. Use it on RDP, VPS, or sandbox.
How To Download