XRAX Multichecker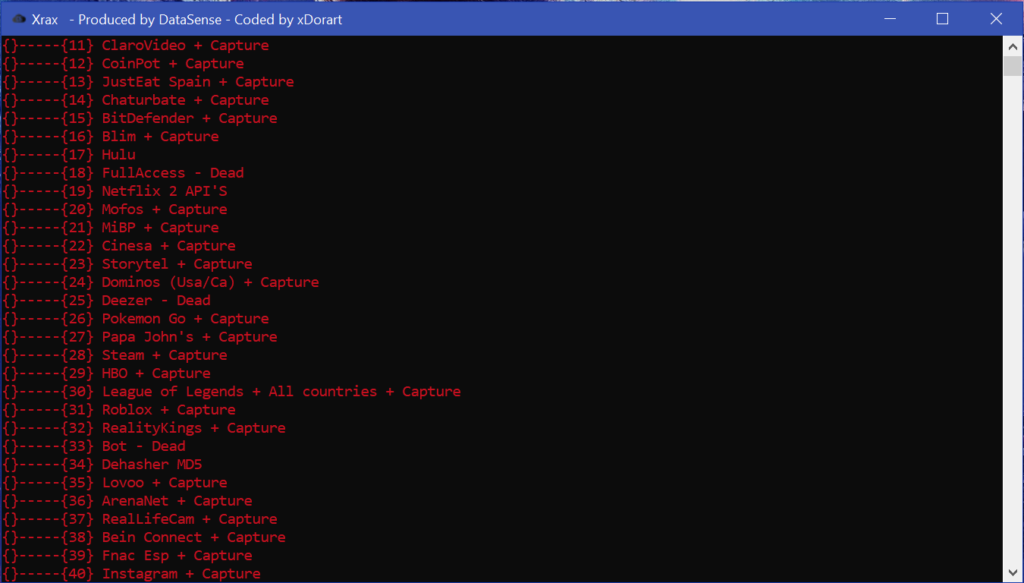 Here is the latest multichecker by datasense. I personally used this tool and it is working fine. This checker contain almost 100 modules. It is simple to use but If you want me to do make a video on it tell me in the comments.
Xrax – The most Insane and fastest Multichecker for FREE.
Xrax has been coded to easy up the work of everyone that joins the cracking world and if you bought membership on https://datasense.pw/ this tool will help you get the most out of our product.
Xrax was coded in a way to make it extremely fast, using private APIs of the sites available for cracking.
Xrax supports 50+ modules including (Fortnite with CAPTURE, Netflix – 2 APIs – both don't lock accounts, Dominos, League of Legends – all countries, pornhub, wwe and many many more)
Xrax also has it's own proxy scraper and proxy checker to make your work even easier.
If you are a database dumper yourself, using Xrax you can dehash your databases using the MD5 dehasher.
Here are the things you get for free using Xrax as your checker:
Crack accounts using 50+ modules with full capture (no account lock, fast cracking);
Scrape Proxies in a blink of an eye;
Insanely fast proxy checker;
Scrape and check, then use the proxies in click of a button;
Dehash MD5;
Combo editors – Split combos, Combine combos, Duplicate remover , Randomize combos.
If you like these tools don't forget to tell in the comments. If you have any question you can contact me using the "Contact Me" page. I'll reply to you as soon as possible.
Note: Before you download the tool make sure you check the VirusTotal link. If you find this is harmful don't use it on your personal computer. Use it on RDP, VPS or sandbox.