Crackfy All In One Spotify Tool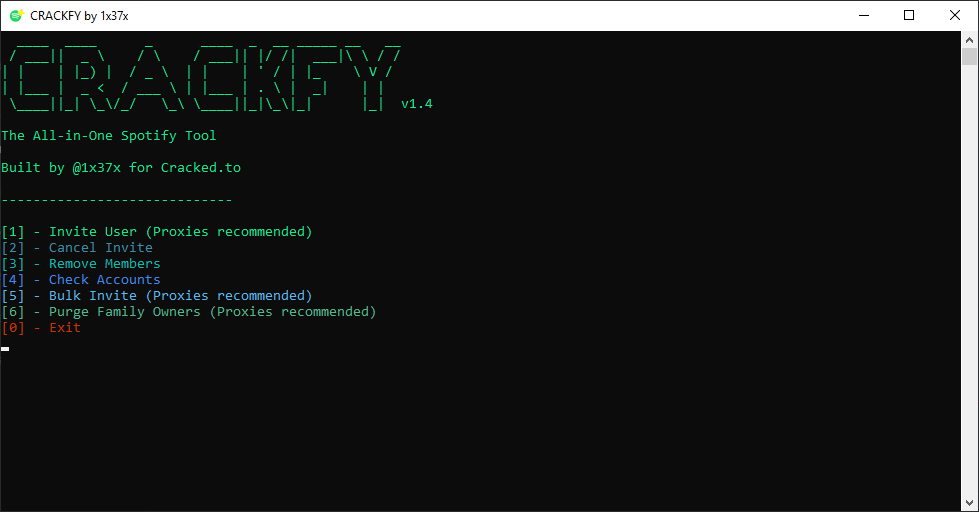 Crackfy all in one Spotify tool. Crackfy is a console app to upgrade Spotify accounts, cancel invites, check for valid subscription and convert combos from email: pass to user: pass and vice versa. All hits get saved in separate files based on subscription. Enter any key to use the tool.
Instructions to send invite:
Add some Spotify Family accounts in the "accounts.txt" file in a user/email: pass format.
At the menu type 1 and click enter.
Type in the country of the account you want to upgrade, you must use the country code for example "UK" or "US" (without quotes).
Crackfy will check through your list of Spotify Family accounts to find an available account for the selected country.
Once an account is found you will be asked to enter the first name, last name and email address of the Spotify account holder you want to upgrade.
After entering the details Crackfy will attempt to invite the user to Spotify and then save the required data into the "Results" folder.
Instructions to cancel invite:
At the menu type 2 and click enter.
You will be asked to enter the login details of the Spotify Family Owner in a user/email: pass format.
Enter the invite token and click enter.
Crackfy will attempt to cancel the invite and let you know about the result.
Using the Checker:
Paste your accounts to accounts.txt in user: pass or email: pass format.
If you want to run the checker using proxies then you will need to add your list of proxies into Proxies.txt
Start Crackfy and choose option 3
You will be asked to type the number of threads you want to use, type a thread amount and press enter.
Select whether you want to save capture or not, type "y" for yes or "n" for no (without quotes) and press enter.
You will then be asked whether you want to convert your combo. This will grab the email or username of the Spotify hit and then save it into a text file creating either a user: pass or email: pass combo. Leave it blank and press enter if you don't want to create a new combo from the hits.
If you have proxies loaded in the Proxies.txt file then you will be asked to choose a proxy protocol so pick a number based on whichever protocol your proxies are.
Checker will then start and autosave the hits into separate files based on the subscription.
If you like this tool, don't forget to tell in the comments and If you have any question, you can contact me using the "Contact Me" page. I'll reply to you as soon as possible. Note: Before you download the tool, make sure you check the VirusTotal link. If you find this is harmful, don't use it on your personal computer. Use it on RDP, VPS, or sandbox.
How To Use This Checker
How To Download