IPVanish Checker v0.3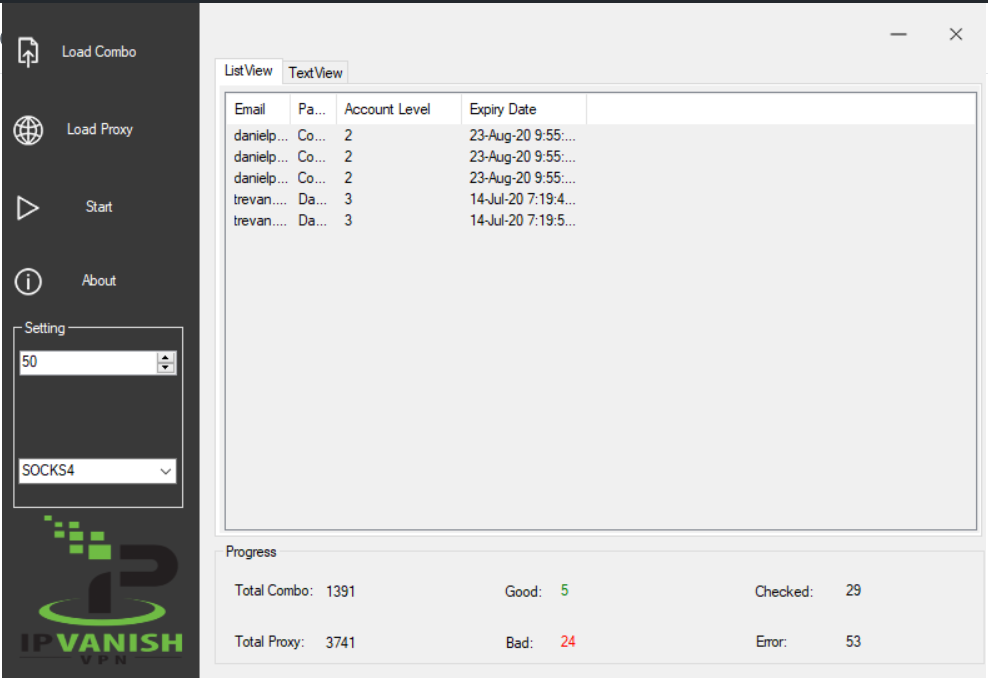 Today I'm presenting to you my latest checker of IPVanish. IPVanish checker is designed and created by me. This checker captures the Account level and Expiry date. It will give you a fine speed with public proxies. If you find any errors or bugs then let me know so that I can fix them. Looking for more tools like this or want to make your custom checker then don't forget to subscribe to my YouTube channel.
This is an old tool but still works. But make sure you are using fine proxies. And if you want speed then make sure you are using HQ proxies. IPVanish is one of the great VPNs that I have used so far. The main thing that I like about it is that it also provides you with a bunch of auth proxies. That can be used in almost all of my checkers and in OpenBullet also.
But unfortunately, this checker doesn't separate free and premium accounts. So you have to check it yourself by looking at the expiry date. If you face any problems while downloading this tool then do let me know I'll send you a guide video.
BEST DEEZER CHECKER BY PJ V1.1 | CAPTURE ALL DETAILS

Latest checker
If you like this tool, don't forget to tell me in the comments and If you have any questions, you can contact me using the "Contact Me" page. I'll reply to you as soon as possible. Note: Before you download the tool, make sure you check the VirusTotal link. If you find this is harmful, don't use it on your personal computer. Use it on RDP, VPS, or sandbox. If you want to purchase RDP/VPS use this link to purchase furthermore you can get a 5% discount on your purchase by using this promo code "PJ".
Download IPVanish Checker