Koy Multi Checker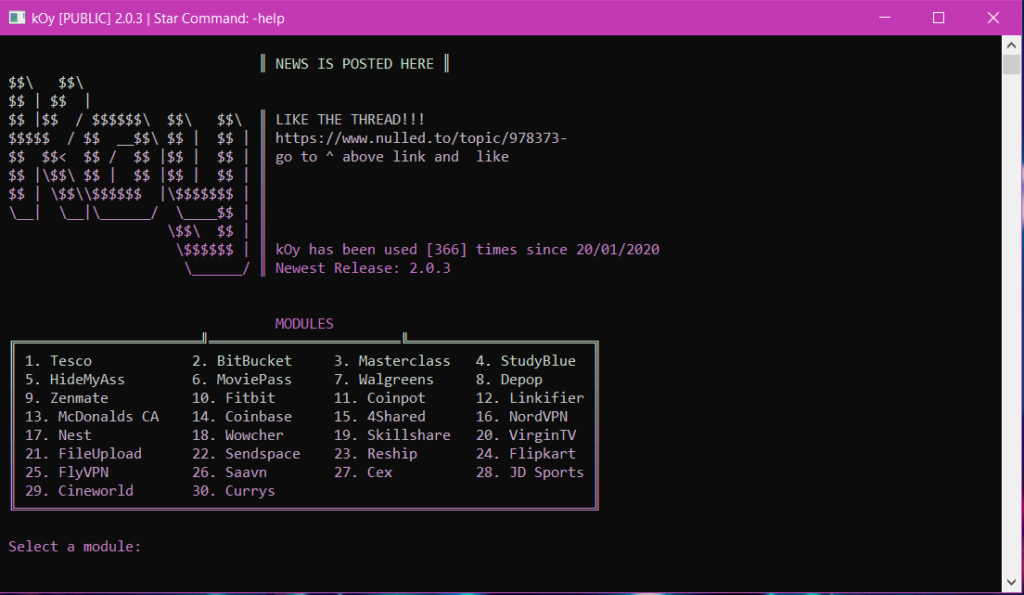 Today I'm presenting to you latest multi checker of 2020 named as Koy. This is a Console base checker. It has 30 modules maybe some of them will not work. I haven't tested all of them before posting. I hope you gonna love this tool. You have to put your combolist and proxies in the import section. Here are some features of the tool.
– New colour every time you open program for a refreshing look and for it to not get boring.
– History saving in JSON (Not RAW Atm)
– Superfast cracking
– AutoSave
– Proxyless exploit added into the cracking process which basically ignores that the proxy is banned and allows it through the API to check invalid/valid combo which also somehow makes it super fast
– Built-in proxyscraper that autosaves in separate files
If you like this tool then don't forget to tell in the comments' Also subscribe my new channel for cool stuff.
If you like this tool, don't forget to tell in the comments and If you have any question, you can contact me using the "Contact Me" page. I'll reply to you as soon as possible. Note: Before you download the tool, make sure you check the VirusTotal link. If you find this is harmful, don't use it on your personal computer. Use it on RDP, VPS, or sandbox.