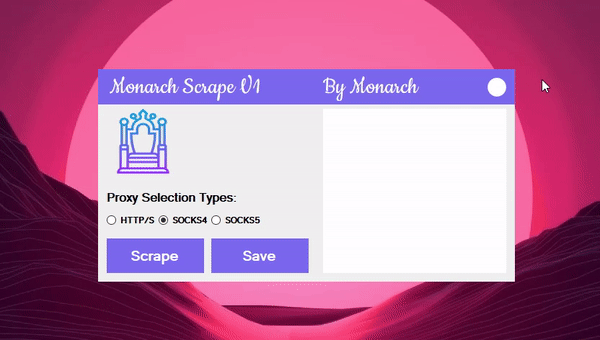 Monarch Proxy Scraper
Here is the latest proxy scraper by Monarch. This proxy scraper can scrap Http, Socks4, Socks5 proxies. It can generate thousands of proxies average generation time is 20 to 30 seconds. According to the owner, it generates premium proxies but I don't think so. These proxies can be good but not that good that we can use these proxies in Netflix cracking. It's my opinion however you should check these proxies and tell your feedback in comments. If you want more tools like this then don't forget to hit the "Allow" button to get notified of our latest updates. Also, check my YouTube channel to learn how to create a checker in details.
If you like this tool, don't forget to tell in the comments and If you have any question, you can contact me using the "Contact Me" page. I'll reply to you as soon as possible. Note: Before you download the tool, make sure you check the VirusTotal link. If you find this is harmful, don't use it on your personal computer. Use it on RDP, VPS, or sandbox.