Unfxy Proxy Checker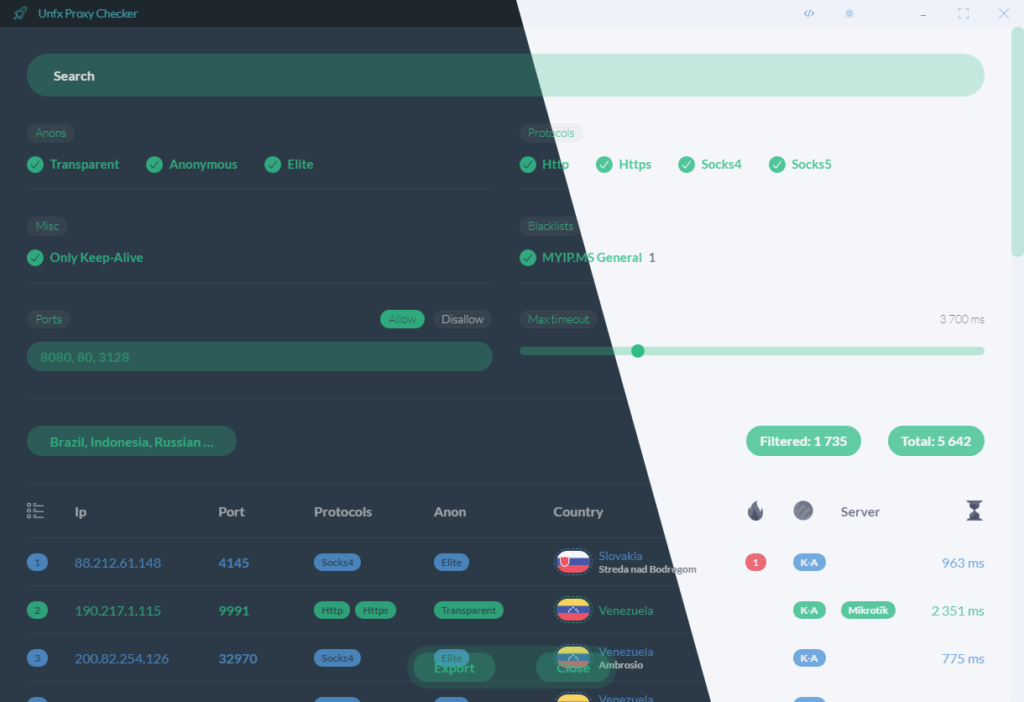 Here is the latest proxy checker name as Unfxy checker. I have found this checker on Github and found it useful that's why I decided to share it here. This proxy checker has a lot of features. This is the latest version of Unfx. Here are the latest features added or fixed in this version.
Reworked: Threads.

If you select 1 protocol, available 1850 threads.
If you select 2 protocols, available 1000 threads.
If you select 3 protocols, available 650 threads.
If you select 4 protocols, available 500 threads.

Reworked: Now timeout selector has stepped in 100 ms.
Reworked: All UI elements with number values how separated by thousand. Was: 10000, become: 10 000.
Reworked: Light UI colors.
Reworked: Footer.
Reworked: Auto updating.
Reworked: Now socks4 and socks5 will use HTTP and HTTPS judges. #25
Added: Multiple retries instead of one retry, maximum amount of retries is 10. #21
Added: Config transformer, to merge old config version with new, without conflicts.
Added: Info page.
Fixed: Keep-Alive detection.
Fixed: Anonymity detection for 'anonymous' level.
Fixed: Issue "Can't delete judge when judge URL is too long". #27
Optimized: UI performance.
Optimized: Lookup country performance.
Changed: Dark / Light mode icons.
If you like this tool, don't forget to tell in the comments and If you have any questions, you can contact me using the "Contact Me" page. I'll reply to you as soon as possible. Note: Before you download the tool, make sure you check the VirusTotal link. If you find this is harmful, don't use it on your personal computer. Use it on RDP, VPS, or sandbox.