Proxy Checker/Grabber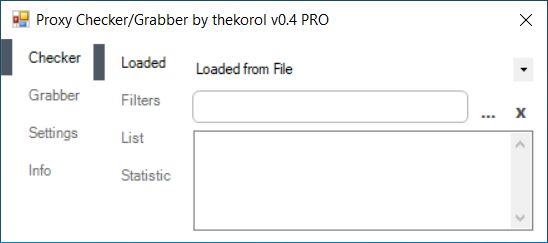 Here it is the latest proxy grabber and checker. With this tool, you can grab and check your proxies at the same time. Let's talk about checker first you can load your proxies in two different ways 1st from a file as usual and 2nd is from URL. After that, if you want to check your proxies against a particular site then go to Filters and select your required site. To check statistic click on statistic option where it shows loaded, good, and bad proxies.
Now move on to the 2nd option, which is a grabber. This option defines itself. You can grab proxies using this option. First, select your proxy type 2nd you can also filter your proxies by country. For example, if you want to collect US proxies only just select the US from a given country. That's the right thing that I like about this tool. You can also choose SSL and Anonymity of proxies.
If you like this tool, don't forget to tell in the comments and If you have any question, you can contact me using the "Contact Me" page. I'll reply to you as soon as possible. Note: Before you download the tool, make sure you check the VirusTotal link. If you find this is harmful, don't use it on your personal computer. Use it on RDP, VPS, or sandbox.
How To Download