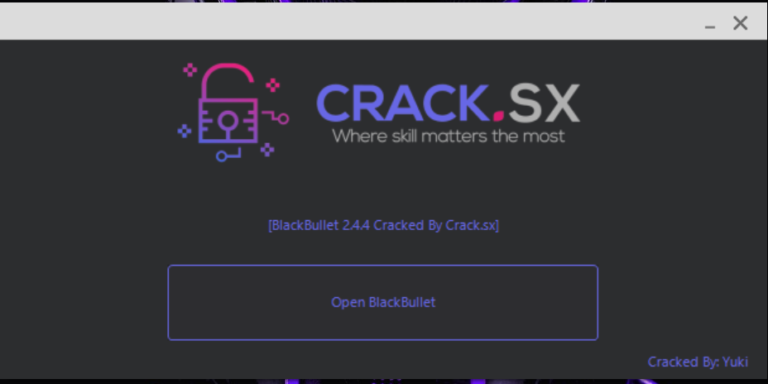 BlackBullet latest version 2.4.4 cracked by Yuki. Blackbullet is a configurable tool in which you can make your own configs and crack different accounts using those configs. BlackBullet is the most powerful tool. If you are a cracker then you must have BlackBullet. So what's new in this version?
Here are new changes in this version.
CHANGELOG FOR VERSION 2.4.4
MAJOR:
– Removed the Christmas Theme but kept the snow as an optional Theme setting that can be enabled.
– [Feature] The Bot Log is now disabled by default when bruteforcing, to allow more speed and less CPU usage to the average user. If you're a config maker and want to debug your bots like you used to, enable the new option in Settings > General.
– [Feature] You can now save hits directly to a file from the HitsDB (right-click menu)
MINOR:
– [Bugfix] Now UnixTimeToDate and UnixTimeToISO8601 can handle milliseconds inputs as well
– [Bugfix] Not skipping the first line anymore
– [Feature] New function DateToUnixTime
– [Bugfix] Fixed parse with empty L and R (source)
– [Bugfix] The warning when proxies run out and no unban options are selected will now be prompted just once
– [Bugfix] Solved the issue with using the captcha from the screenshot
– [Bugfix] Fixed UI bug in the Script Block's editor
– [Bugfix] The starting point is updated after an abort without the need to reload wordlist/config
– [Feature] You can now write SET COOKIES in LoliScript to copy all the cookies from the current cookie jar to the shared jar. The cookies in the shared jar will be assigned to each of the bots' cookie jar when they are starting up (so the jar won't be empty anymore at the start). You can use this in conjunction with a global variable to set a trigger of when the cookies expired.
– [Feature] Added a new fixed variable <BOTNUM> to retrieve the number of the current bot processing the combo (this allows to have bots dedicated to specific jobs, e.g. retrieving cookies)
Note: You won't be able to load .ini config into this version of the black bullet because the developer changed the format to .bbc
However, we included a converter that can convert .ini configs to .bbc
You won't be able to load any configs made from a legit version of the black bullet because they are already encrypted and the decryption keys are stored on their server. You can, however, share Blackbullet configs which are made from the cracked version with others who has the cracked version as well!