ZenMate Checker V1.1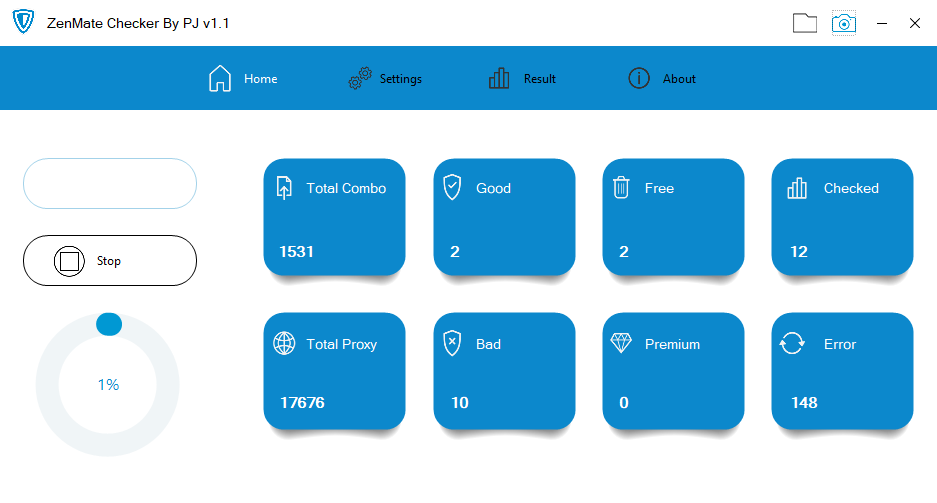 I went through my old checkers and found out that my previous ZenMate checker had stopped working, so I decided to create a new one. So here it is, the latest brand new ZenMate checker v1.1. This tool is based on API that I have found from the config; the author name was missing, that's why I couldn't mention him here. Anyway, this checker is slightly slower than the previous one, but it works well with good proxies. You can also use this tool with free proxies, but CPM would not be that good; that's why to use good proxies.
What is ZenMate?
ZenMate is a VPN (Virtual Private Network) use to hide your IP and protect you while you are suffering internet. You can subscribe to their monthly plan for 11$ per month, or you can subscribe yearly and save up to 59%. This VPN is available for almost all devices and browsers. If you are using a computer, you can download ZenMate VPN on your computer or use their extension in your browser.
Changelog
Update the UI
Added new API
Increase the number of threads
Now support IPVanish proxies
Added more captures
Capture Format
———-<ZenMate v1.1>———-
xxxxxxxx@mail.ru:xxxxxxxx
Account Created At: 2019-06-13
Device Count: 2
Plan: Premium
End Date: 2022-06-13
Auto-Renew: True

I hope you will like this tool and always check the VirusTotal link before downloading any tool from any site, even on my site. If you want to learn something new, you can check out my YouTube channel, where I have tried to teach you the best and simple way to create your configs and checkers.