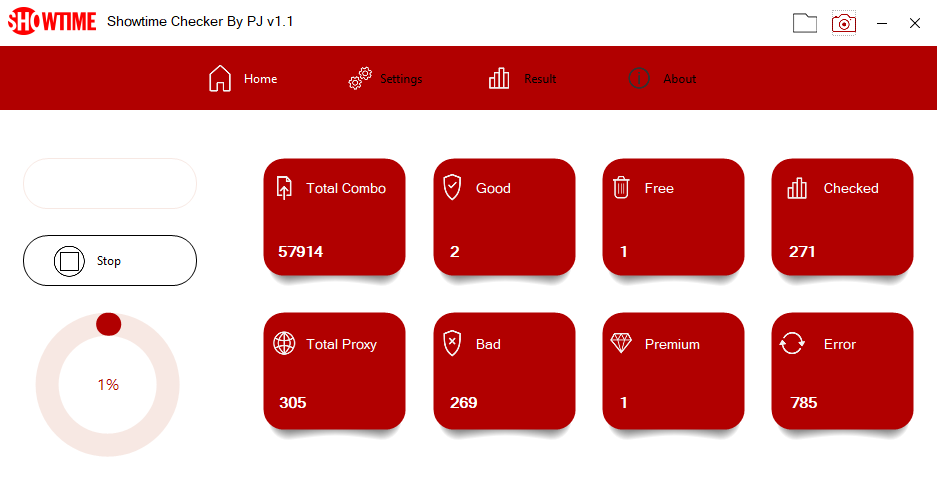 What is Showtime?
Before I talk about Showtime checker, let's have some talk on Showtime. It is an American premium television network owned by ViacomCBS. Showtime is only available in the USA, so if you are trying to watch this platform outside the USA you will have to use a VPN. Showtime includes theatrically released movies. Original series, boxing, and martial arts match, along with stand-up comedy.
If you want to purchase their service, you can subscribe to them for 10.99$ per month.
Showtime Checker v1.1
This checker is based on Web API, but it works excellent with public proxies. But paid proxies are recommended for good CPM. Showtime is blocked outside the USA, so you must use USA proxies only. This checker generates three files for each type of account: free, premium, and expired. It only accepts email: pass combo list, so make sure you use the right one; otherwise, you will only get bad accounts.
I hope you will like this tool and my effort and If you face any problem or bug with my tool, let me know. I'll try to fix that bug as soon as possible. Always check the VirusTotal link before downloading any checker from my website.
Capture Format
———-<Showtime v1.1>———-
ABC@XYZ.com:ABCxyz
Subscription Status: ACTIVE
Trial: EXPIRED
Gender: Not Specified
Billing Type: PORKU
Download Showtime Checker